All Drivers will require a membership
GUARANTEED RACE TIMES

There are at least 4 race sessions per day:-
10am - 12 noon - 2pm - 4pm - 6:30pm.

Please Note- 6:30pm sessions are only available on Friday & Saturday evenings. Formula Hire Karts are seriously good fun for mixed groups and younger drivers, 
Minimum age for Formula Kart drivers is 10 years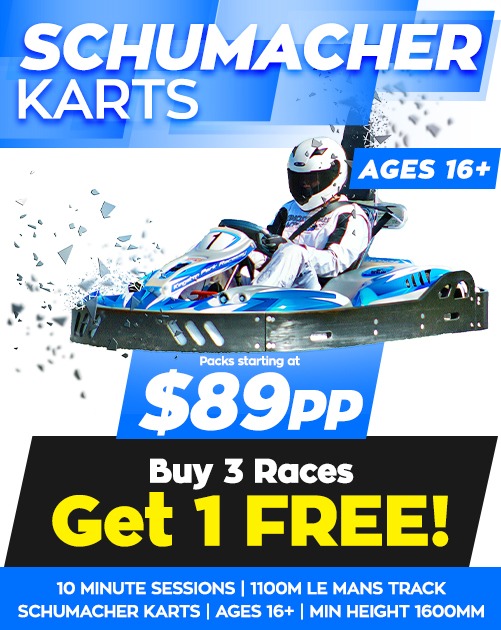 All Drivers will require a membership
SCHUMACHER RACE KARTS
Race the brand new Schumacher Race Karts around the testing Le mans Circuit during the school holidays. 
Special Offer:- Buy 3 races at $89  and you get a 4th race free Saving $22.00 per ticket (usually $110) 
Experience real racing on a real race track. 
Minimum age for drivers in Schumacher karts 16 Yrs
CHANGES TO TICKET SALES. 
The raceway will run restricted sessions until further notice. Groups will alternate races over a 2 hour period. You are allocated a start time for your races.  
SAFETY EQUIPMENT: Drivers must have Closed in shoes, Race Gloves and a Balaclava whilst racing.(even when wearing your own helmet) 
All items can be purchased at Pit Stop Cafe or you can bring your own.

Please arrive 45 minutes early to allow time for processing at the counter